5 Tips for Scandinavian Living
Select a Comfortable Sofa
It's a key
Scandinavian furniture design is characterised by minimal design, blend of neutral tones (grey, white, beige), and textures. Selecting the correct Scandinavian style sofa is one of the keys to creating a Scandinavian interior design.
A Scandinavian style sofa is a great idea if you want flexibility in your interior design so you can play around with different decoration themes. It essentially keeps your furniture as a blank canvas to decorate as you wish!
Editor's Pick - Best Selling sofas
EMOH Sofa Collection: The above eight sofas with solid wood frames are EMOH® bestsellers since we have launched them in the market. EMOH wooden sofas carry a simple but elegant design. The carefully selected neutral tone fabrics help to define a simple, natural and modern interior.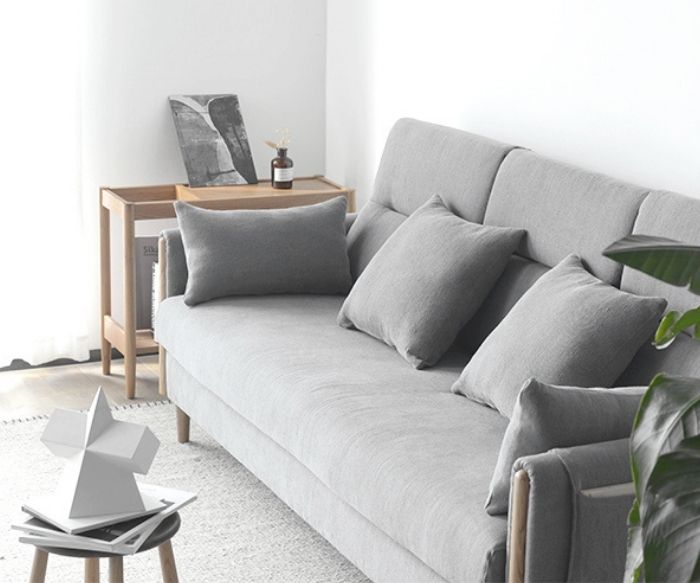 EMOH offer 2 seater sofas and 3 seater sofas with optional ottoman. If the standard dimension does not fit your abode, we can customise the length, depth and backseat height for your Scandinavian style interior.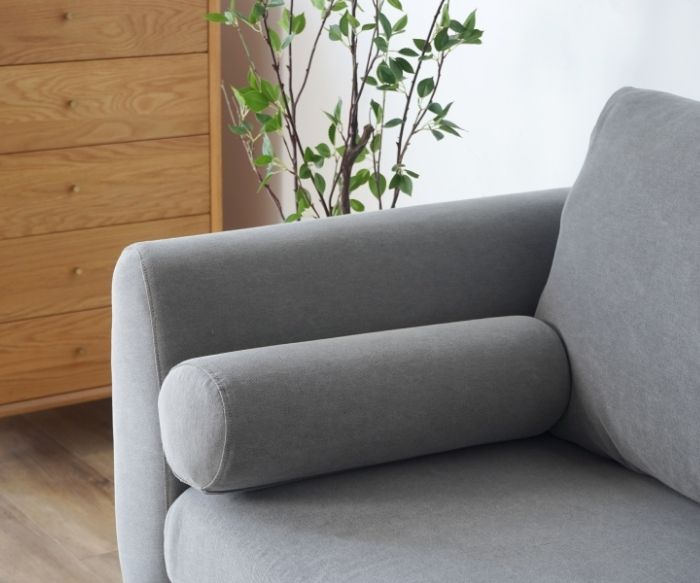 The surface material EMOH® uses for EMOH collection is a premium fabric that is more durable and pet-friendly than standard fabric sofas. It is scratch-resistant, so it is easy to maintain even with light tone colours.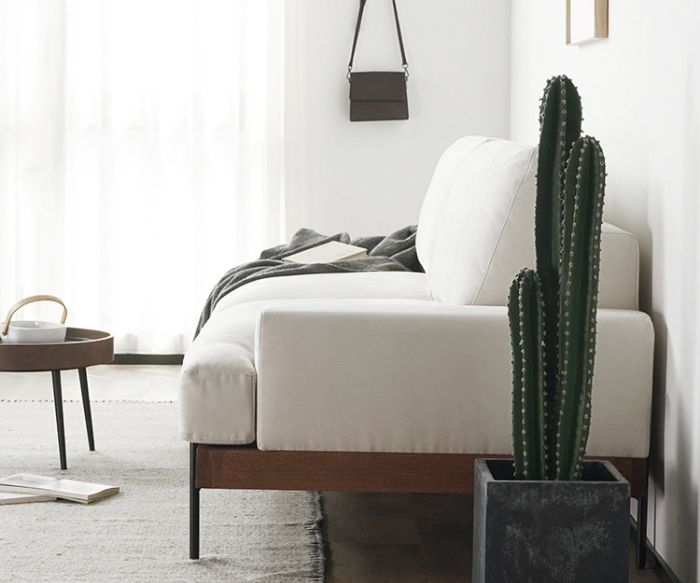 Not only the design of EMOH, but EMOH® also wants to bring a comfortable, maintained sofa into your Scandinavian style interior. The upholstery fabric EMOH® are using is also water-resistance to give you convenient cleaning.
Minimising Storage
A living philosophy
Storage is the second key in the Scandinavian interior design. It is a living philosophy to keep your possession minimal, a way to against materialism.
Instead of planning the best discreet storage solution for your interior, EMOH® promotes minimising storage space. Therefore, loose cabinets are suggested instead of a built-in custom storage system.
Scandinavian style furniture helps you to enhance the practical but minimal design. Instead of a built-in storage system to cover the wall, loose cabinets are highly used to show more the wall space and create a visually spacious interior.
Editor's Pick - Best Selling Storage
All these cabinets are designed and manufactured by WHOOP Studio in Bangkok. They are decorative, simple with bright colour tones to highlight the aesthetics of Scandinavian style.
Pendants for dining area
To enhance the atmosphere
Lighting is essential in Scandinavian interior design. Cozy and relaxing lighting helps to provide adequate illumination and makes a modern statement in the space.
Ceiling lamps in the living room or other spaces with natural elements and simple design are the primary illumination source. Choosing ceiling lights with a wooden feature can express a soothing atmosphere, while those with brass accent help to emphasise the feature of the Scandinavian style.
Light up
selected lighting
URBANÖRDIC is a lighting collection inspired by Nordic design. This collection combines natural elements like solid wood with pastel colours and geometry, to enhance a nordic style interior. The combination of different materials and texture makes every piece a conversation starter.
Vertical decoration
eye level
Space is essential in Scandinavian interior design while the decoration is focused in an open area. The vertical decoration is always neglected to enhance the airy feeling.
The tips are to use floor lamps, and clothes hanger stands to create practical and vertical decoration. These additional floor lamps the feeling of brightness and space to the Scandinavian interior design, while the clothes hanger stands help to organise your space effectively.
Soften space with mats
make the sense rich
While Scandinavian style wooden furniture is filled in the space, dense material with rugs can soften the space's feel. EMOH® introduces eco-friendly and creative mats, PDM.
PDM mats made of recycled plastic bring water-resistant, sustainable and UV resistant home decoration to your houses. These mats in the Scandinavian interior design can create a warm and welcoming feel. They also introduce additional seating in the Scandinavian style interior to deliver "Less is More" approach.
ENJOY YOUR DESIGN
EMOH always make your ideas happen