MERASA Collection | Style Your Home With Eco-Wood Furniture
MOODBY® is committed to advocating the return of nature and a sustainable lifestyle to let nature define beauty. Each piece holds a unique natural fingerprint, so no two pieces look the same, which the result is in the hands of nature. Each masterpiece thus is crafted with materials from sustainable plantations, reclaimed wood and eco-safe finishing. With the incorporation of traditional craftsmanship into modern aesthetics, each masterpiece is sustainable, original, modern and timeless.
Are you interested in sustainable living and want to make a positive impact on the environment? If yes, then you'll be happy to know that MOODBY shares the same values. By utilising sustainably sourced solid woods and chemical-free Dutch Golden Care Oil, MOODBY is committed to promoting sustainability in the furniture industry. Each piece is designed to highlight the natural wood grain, making for functional, elegant, and stylish designs.
Their MERASA collection features the unique beauty of sustainable-grown teak wood, telling a story through every grain. By investing in MOODBY's environmentally and socially responsible brand, you can take small steps towards sustainable living and reduce waste. Let's explore the MERASA collection and discover how to enjoy sustainable living without sacrificing style or functionality.
MOODBY is a brand that values and respects natural aesthetics and Asian craftsmanship. They strive to incorporate these elements into modern aesthetics in unconventional ways. MOODBY collaborates with designers from around the world to create sleek, modern and inspired masterpieces that can enhance the beauty of your interior.
To ensure their products are durable and consistent, MOODBY partners with experienced Asian manufacturers who integrate the latest production techniques and traditional craftsmanship. They follow strict protocols during production to maintain export quality.
MOODBY® is dedicated to promoting a sustainable lifestyle that celebrates nature and uplifts the spirit while enhancing dopamine levels. They offer stylish and high-quality eco-wood furniture made from materials sourced from sustainable plantations, reclaimed wood, and eco-safe finishing. By blending traditional craftsmanship with modern aesthetics, MOODBY® creates unique, timeless and contemporary pieces of furniture.
MERASA COLLECTION
timeless allure meets legacy
The MERASA collection from MOODBY is named after the Indonesian word for "sensation". This collection embodies the innate beauty of teak timber and reclaimed wood, delivering an ingrained legacy of timeless aesthetics. With eco-safe oil finishing, each piece from this collection creates a truly tactile sensory experience that's as exciting as luxurious. The solid eco-wood furniture is also complemented by German hinges, full-grain leather, metal, and European marble slabs and makes for a truly unique addition to your space.
MOODBY selects only the finest sustainably grown teak wood, carefully monitored by the Indonesian government. Their designers have chosen this type of wood for its remarkable strength and durability, allowing them to create heirloom-quality eco-wood furniture that will stand the test of time.
Teak wood is strong, durable, and can withstand extreme weather conditions. It develops a beautiful silver patina and holds up well to heavy use indoors or outdoors. Teak's natural silica and latex content repels moisture, moulds, termites, and other pests, ensuring longevity.
The Dutch Golden Care Oil protects the teak inside and out with its water-based, non-toxic formula. It prevents stains from wine, oil, and moisture while maintaining the wood's natural beauty through an invisible seal. Its built-in mould inhibitor and breathable application safeguard indoor surfaces from environmental damage for years through simple, eco-friendly protection.
JODOH Series
ethically crafted
The JODOH series by MOODBY is a true celebration of nature's raw beauty. Each piece - made from sustainably-planted teak wood in Indonesia - boasts a sleek and minimal design that enhances the natural beauty of the materials. Treated with Dutch Golden Care Oil, the teak wood surface is water-proof, oil-proof, and chemical-free, ensuring longevity and durability. These pieces are inspired by nature and offer a soothing touch and organic texture that will transform any living space.
JODOH TV Cabinet
a piece of functional art for your home
The JODOH TV Cabinet brings sustainable mid-century flair to your media storage. Crafted from Indonesian teak wood with slatted doors ensuring cooling airflow, this organised TV cabinet provides the perfect space to stow electronics and accessories out of sight neatly. Aging gracefully over decades, the JODOH enhances your home while embracing the natural beauty of its materials.
JODOH Live Edge Table
rustic meets luxury
The JODOH Live Edge Table is a true reflection of nature's raw beauty. Made from sustainably sourced Indonesian teak, each table boasts a unique, organic edge that has been shaped over centuries. The table is finished with organic oil to preserve and protect the wood's natural textures and qualities. This rustic piece of eco-wood furniture is not only a conversation starter but also a reminder of a simpler time with its timeless charm that will endure for years to come.
JODOH Dining Table
the board of legacy
Crafted from sustainable-grown Indonesian teak, the JODOH dining table boasts a sleek, minimal form that allows the wood's warm hues and subtle grain to shine through an organic oil finish. This heirloom-quality piece has a texture-preserving design that not only protects the wood's innate qualities but also enhances its natural patterns, making it perfect for setting the stage for nourishing family rituals for generations to come.
CODE Dining Table with Marble Top
style and luxury
The CODE Round Dining Table combines rustic Indonesian teak and smooth white marble into a luxury piece inside and out. Its sustainably sourced teak base offers stability while allowing the fine-grained top to take centre stage. Finished for a soft, natural look that endures the elements, this investment invites guests to gather around for lifelong making of memories.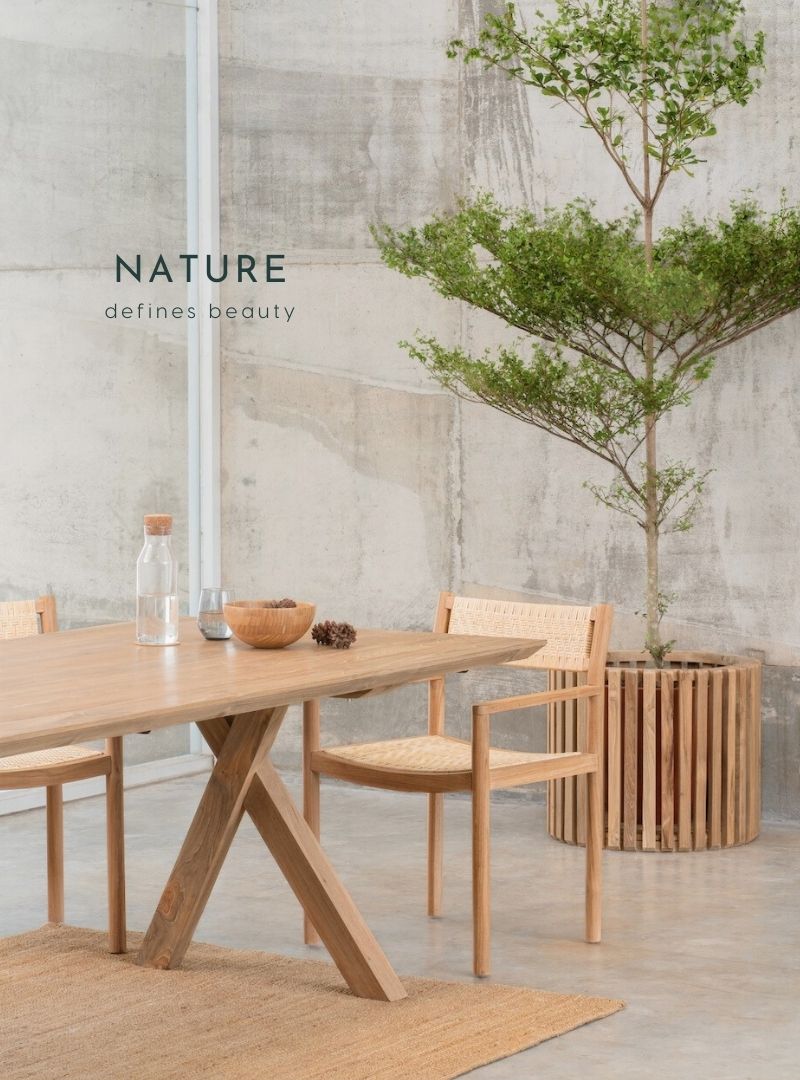 BEGITU Dining Chair
relax in rustic elegance
The BEGITU dining chair invites comfort through craft. Its handmade teak frame treated with Golden Care Oil supports handwoven rattan or a full-grain leather seat pad. Natural characteristics emerge through the oil while ensuring resilience for indoor or alfresco use. Made with care in Indonesia, this chair is a must-have for those who appreciate beauty, sustainability, and functionality.
Lao Chair
tactile comfort of nature's gift
The Lao Chair provides relaxing luxury wherever needed through a compact teak frame and cushion. Crafted in Indonesia to gracefully nestle you, its enduring heritage and tactile textures invite repose with loved ones as its character deepens with memories. An heirloom-quality companion that fits wherever friendship is found.
KAMI Series
timeless allure meets legacy
Reclaimed wood not only adds charm and character to any space but also helps protect the environment. The KAMI series features pieces made of wood salvaged from old houses and bridges in Indonesia. Each piece is unique and tells a remarkable story through its precious markings and grains. By upcycling this sustainable wood, MOODBY can breathe new life into furniture and reduce waste sent to landfills. The patinated patterns of this repurposed wood can transport you through different eras and add a touch of history to your home or project.
3mm thickness metal with powder-coated steel plate
The KAMI series debuts with furnishings anchored by industrial-inspired elements. Crafted utilising a 3mm thickness powder-coated steel plate, the stable frameworks uphold heirloom-quality reclaimed teak salvaged from Indonesia's history. Enduring construction marries modern functionality with pioneering fusion within the collection, inviting the discovery of connections through generations.
To ensure that the reclaimed wood remains in good condition for years to come, it is treated with Dutch Golden Care Oil, a natural, water-based, waterproof, and chemical-free protector. This not only helps to protect the wood from damage but also helps to maintain its natural beauty and character. By taking care of the reclaimed wood in this way, the KAMI series can pass down the wonder of wood to future generations.
KAMI Sideboards
storage reinvented in reclaimed beauty
The stylish KAMI sideboards maximise storage with cabinets while minimising space. Handcrafted from reclaimed teak wood sourced in Indonesia for a rich natural grain, reinforced with powder-coated steel and protected by a waterproof and chemical-free Dutch Golden Care Oil finish, KAMI brings abundant organisation and beauty to any home.
KAMI Tables
enduring craftsmanship
The KAMI tables exemplify modern, clean lines coupled with enduring craftsmanship. Whether gathering for meals or casual entertaining, the sleek dining table takes cues from mid-century design with a metal base gracefully supporting a generous reclaimed teak wood top. Besides, a matching side table provides convenient surfaces without cluttering valuable floor space for effortless flow.
Bedroom Series
a Tranquil Sanctuary with Sustainable Indonesian Teak
Transform your bedroom into a tranquil sanctuary with the JODOH bedroom series. This collection features sleek, sustainably sourced teak wood furnishings handmade in Indonesia. The bedside table, console, and dresser have clean lines that accentuate the natural warmth of the wood, creating a calming atmosphere. The wood is treated with a proprietary Dutch Golden Care Oil process, maintaining its soothing textures while protecting it from damage for years of low-maintenance use. With its timeless natural beauty, JODOH transforms sleeping and dressing into eco-luxury.
JODOH Bedside Table
mindfully crafted simplicity
The JODOH Bedside Table enhances your space with minimalist elegance. Its teak wood frame showcases unique grain, while its empty bottom and single drawer offer convenient storage and easy cleaning. Crafted in Indonesia using natural teak and treated with a protective Dutch oil finish, this bed companion brings eco-luxury and timeless beauty to your bedroom.
JODOH Console Table
effortless style and function
The JODOH console table is a sustainable and stylish addition to any entryway. It features clean teak surfaces, two smooth storage drawers, and a chemical-free Golden Oil finish that protects the natural wood over time. This elegant table provides a perfect landing zone and organisation for any conscious home.
MOODBY® is dedicated to promoting a sustainable lifestyle that celebrates nature and uplifts the spirit while enhancing dopamine levels. They offer stylish and high-quality eco-wood furniture made from materials sourced from sustainable plantations, reclaimed wood, and eco-safe finishing. By blending traditional craftsmanship with modern aesthetics, MOODBY® creates unique, timeless and contemporary pieces of furniture.
To keep the natural beauty from the nature, MOODBY crafts products with materials from sustainable plantations, which are overseen by the Indonesian government or reclaimed teak wood without chemicals hurting our Mother Nature. And to make it sustainable.
"Incorporating eco-lifestyle and modern art into the soul of each piece of furniture and home decoration by working with designers in the world."